Last June I photographed BNSF 1512 in Seattle and have been wanting to do a bit of research on this units history which dates back to 1957.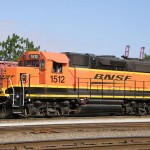 The 1512 was originally built as GN 714, one of 10 units numbered 712-722 delivered in the Spring of 1957 equipped with dynamic brakes in the Classic Empire Builder paint scheme. According to the GN Pictorial 2, GN 714 was assigned to the Spokane Division in 1969. When the Big Sky Blue was introduced the 714 got a repaint to blue. Checking my notes I never got to see the 714 before the BN 1970 merger.
After the BN merger the GN 714 was renumbered BN 1787 and assigned to Hillyard until those shops closed. It then went to the ex-NP Parkwater shops in Spokane for maintenance.
On 2-1-74 I noted the 1787 at Seattle's ex-GN Interbay yard in BN green. I eventually photographed the 1787 at Wenatchee, WA 9-18-82. Note the Parkwater stencil meaning it was probably still assigned to Spokane at this time.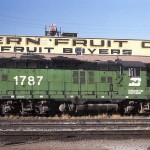 And another photo of the 1787 leading a westbound work train around Trinidad Loop in 1984.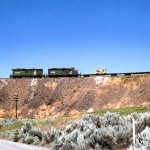 And on 3-12-88 I caught the 1787/1812 (both former GN) westbound on the Crew 8 local between Maple Valley and Renton, WA on former Pacific Coast trackage also once used by the Milwaukee Road. (and GN before the BN merger)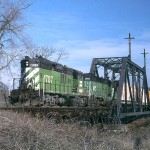 Four years later the 1787 went to MK and was rebuilt into BN GP28M 1512 and returned to service 10-21-92 in BN's new pinstriped green. I don't know where it was assigned but like the GN 714, I never saw it as the BN 1512. After the BN merger in 1995 it kept the same number but got BNSF sublettering and I have found photos of it in 2005-2006 in BN green working around the Eola Yard area of Illinois.
In late 2008 the 1512 worked west to Tacoma, WA for repainting into BNSF's latest scheme at Ceeco. I remember hearing about it being in the area and hoping I could photograph it before it left.
It wasn't until June 26, 2009 that I finally managed to catch the 1512 in Seattle. It may not look much like the GN 714 anymore but it was still a unit I had been wanting to photograph so I am glad I was finally able to complete that goal.