While not one of BN's presecessor roads the ex-Conrail GP38′s BN picked up are pretty interesting in my opinion so after having photographed BNSF GP38 2185 in Seattle this summer I did a bit of history searching on the locomotive.
It was built for Penn Central in June of 1970 as GP38 7863 and delivered in basic black with the PC noodle.  PC's GP38′s were numbered 7675-7939.  After PC folded in 1976 Conrail emerged (Consolidated Rail Corporation) and the 7863 was relettered and eventually repainted blue.  15 years after later in July of 1985 35 Conrail GP38′s were sold to the BN including the 7863 still in blue but with all markings painted out. It was recycled thru West Burlington shops and emerged as BN 2185.
On a trip to Montana in September of 1987 I photographed BN 2185 at Paradise, MT 9-17-87 on the Polson Turn headed back to Missoula.  Glendive is stenciled as its maintenance base.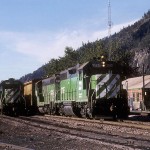 Here is a roster of the BN 2185 at Paradise, MT.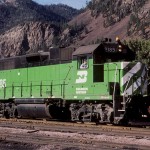 After the 1995 BNSF merger the 2185 kept its BN number and was painted in H1 by Livingston Rebuild Center 11/99.  I finally saw it again on 6-29-09 in Seattle leaving Stacy Street yard leading a local.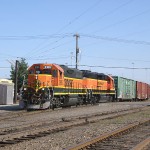 Here is a roster of the BNSF 2185 at Seattles Stacy St yard.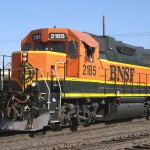 It certainly did look sharp and a bit more colorful than PC black I would think!